Bono has rallied against Donald Trump during an overtly political set at a music festival, days after he warned the Republican nominee "is potentially the worst idea that ever happened to America".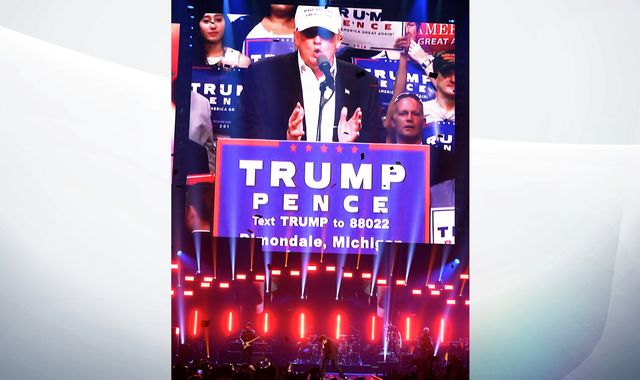 Starting the set, the U2 frontman urged the audience to use their vote irrespective of whether they were Democrat or Republican – but in the songs that followed his own opinions were made crystal clear.
During their hit Desire, Bono asked the crowd at Friday's iHeartRadio event in Las Vegas: "Are you ready to gamble your car? Are you ready to gamble your house?"
On a massive screen above the stage, his questions were interjected by a clip of Donald Trump asking his supporters: "What do you have to lose?"
Bono then asked if the crowd was ready to gamble the American Dream – and a clip of Mr Trump speaking at a different rally was played, where he declared: "The American Dream is dead."
As clips of people placing large bets on roulette and card games played out, Bono shouted: "The American Dream is alive! … What do you have to lose? Everything! Everything!"
In the days before Bono's appeal, he told the Charlie Rose programme that Mr Trump could "destroy" the US if he is elected in November.
Bono said: "I don't think he's a Republican. I think he's hijacked the party and he's trying to hijack the idea of America and I think it's bigger than all of us.
"This is really dangerous and wise people of conscience should not let this man turn the country into a casino."
Despite his fierce remarks against Mr Trump, Bono used the interview to insist he has been "fiercely bipartisan" for decades and will "stay that way".
(c) Sky News 2016